Information-Stealing Virus.
The Credit Union is aware of a possible software virus that could affect the computers of members using home banking. Mercer County Community FCU servers are not the source of this virus.
The virus can be difficult to track and detect. It targets financial institutions in order to try and steal their customers' information. It mimics secure sites and directs home banking users to enter their personal information.
Your computer may be affected if you see a screen like the one below. At the top of the window is a paragraph that typically reads "We do not recognize the computer you are using. To continue with Online Banking, please provide the information requested below." Here is what this virus may look like on your screen: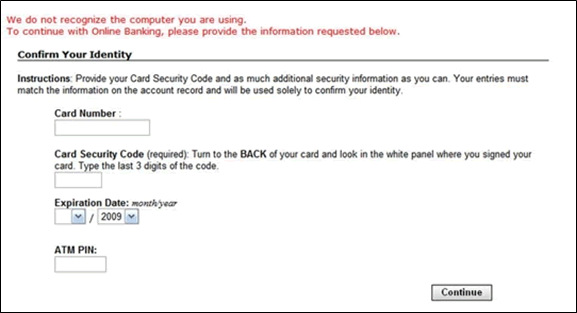 Remember, the Credit Union will never ask for account information to verify your identity, such as:
•Credit Card Number
•Debit Card Number or security code
•Expiration Dates
•Card PIN
•Social Security Number
•Date of Birth
What you should do if you see this (or similar) page:
If you see a page requesting such information, do not proceed, do not enter information, do not click any links or buttons. If you see such a page then you potentially have a virus on your computer and it is recommended that you consult a computer specialist and/or use anti-virus software to remove the virus before attempting to access home banking.
If you have encountered this or any fraudulent page described above, please notify us by contacting us at 724-342-2246 or 724-981-9410.